Ranch Samaguy Dream-Boy Kurt #9730
"Kurt"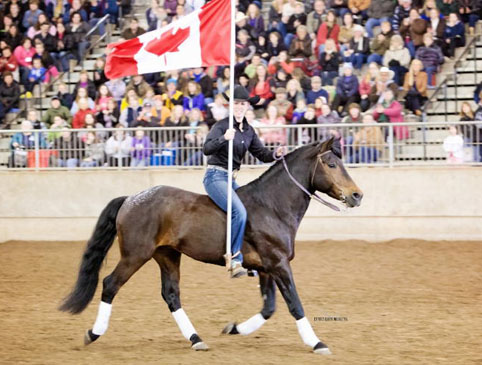 Kurt is a beautiful mahogany bay Stallion
Born 2000 standing 15.1hh
SIRE: Quatre G Billy Boy Dream-Boy #6595
DAM: Trois Chemins Elite Sissie #4859
See Photo Gallery below for Kurt's progeny

Kurt is an extremely rare double-bred Henryville Elite Stallion (Henryville Elite top & bottom). He was the last standing stallion at stud for the Henryville Elite bloodline for many years. Kurt is part of our Rare Bloodline Preservation Breeding Program. In 2009, three exceptional colts from Kurt were born (Woodmont, William-Elite & Wyoming). In 2010, Kurt had another amazing colt Xtreme-Elite. All four of these superior Kurt colts have since become breeding stallions on their own merits. Wyoming was the first Canadian stallion from Storybook Horse Farm to be exported back to Canadian. Woodmont (Woody) & William-Elite (Billy) have become standing stallions here at Storybook Horse Farm. Xtreme-Elite is a standing stallion in California.
Kurt has fabulous temperament, movement, conformation, and jumping abilities. He has a beautiful head, thick mane and tail, great bone and feet, and a very smooth gait. He delights visitors with his personality, temperament and intelligence.
Kurt was trained under saddle and was driven in the past before being imported from Quebec in 2006. Kurt was unable to go to shows and perform until he had stallion worthy sons to carry on his rare bloodlines. Finally, in 2011 he was allowed off of the Farm to performed in the Canadian Horse Demos at the NW Horse Expo and he instantly became a crowd favorite. Kurt has continued performing at the NW Horse Fair & Expo, competing in the All Breed Challenges and has been a member the of the Rock 'N' Cowgirls Professional Drill Team. Kurt has also been trained for roping, reining, cutting, gaming, mounted shooting, extreme trail riding, jumping, dressage, and 3-day eventing. He is so talented & athletic, he is a walking advisement for the Breed's versatility!
Kurt is lighter in the barrel than some of the heavier, chunky stallions. Kurt consistently stamps his foals with his fabulous temperament and jumping abilities...his offspring love to jump!!! With all of his great attributes, he is the "total" package as a stallion. He shortens long heads & long backs and he improves other conformational issues of the mare. We have had many of his offspring here at Storybook Horse Farm and all of them have been an improvement of the Dam...and that's not easy when we have some of the highest quality Canadian mares in the world!
If you are looking for a stallion that consistently produces exceptional offspring with great temperaments and natural abilities to jump, Kurt may be the stallion for your mare. The results of Kurt's crosses with other breeds are truly amazing, see King's Affair and Knight Dreamer below.
Stallion Services and Stud Fees
Photo Gallery
Samples of Kurt's Progeny